.:Speed Dating Fail:.
Since I'm not really angry at them or anything, I decided not to tell you who organized this event and where it happened, but it's just too funny a story for me to not share.
So as a friend invited me to give it a shot and I had it on my bucket list, I went to a speed dating event somewhere down South last Thursday night. It was at a pretty cozy bar and restaurant flanked by your standard bars with regular outdoor performers, and we were promised a night filled with fun and excitement as 45 couples actually confirmed for the event.
When I got there, I was the first one. It was about a minute past 7, and the invite said the event supposedly starts at 7. After about ten minutes or so, a group of people filed in, and they all apparently knew each other. With a lot of time to kill as less than ten people were there so far, we sorta bent the rules of speed dating and just started engaging each other in conversation.
What a small world it turned out to be. Apparently, the people I was with were actually friends with Raffy Taruc of the Comedy Cartel. They were all batchmates, and they were looking rather bemused at my DLSU jacket, which I wore despite the fact that I'm from ADMU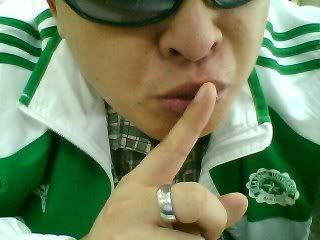 Shhh. It's our little secret. Then again, I wore this while eating in Manang's...


So there we were, getting to know each other, and it turns out, one of the people there knew me as Kel, the regular guest at the Disenchanted Kingdom. Predictably, I was asked to demonstrate some magic, and I obliged. Conversations hovered from stuff we did in school to Paano Na Kaya, but overall, we didn't really care anymore, even if it was taking an awfully long time for the actual speed dating to begin.

Okay, maybe not. At about two hours into things, we did start to mind the delays, and it would take one more hour before the program would actually begin. The cool people I was with? They all walked out because they couldn't stand to wait for the event to begin at the time the invite said it would end.

So when the night began, out of desperation, the venue started dragging random girls to take part. The singer from the other bar, some of their employees, and so forth. The highlight though was they got a transvestite to sit on the ladies' side. Now, everyone knows I'm not homophobic, but that's sorta the last thing I'd expect from a speed dating event, if you know what I mean.

And really, the only reason I stayed on was there was this Korean-looking girl at the end of the line, and I was hoping to get to know her. In the middle of a gathering of people who could fill out a speed dating horror movie montage, I was happily ticking off "no" a majority of the time, until I got to the Korean-looking girl, who turned out to be half-Korean.

Problem was, the minute she started talking, I was immediately thrown off. There was an audio-visual disconnect that I couldn't quite reconcile with myself, not to mention she apparently was one of the employees of the venue and wasn't supposed to be in the speed dating event, to begin with. But fine, I was willing to overlook any bad first impressions I got and ticked "yes" on my sheet for her anyways, then moved right on.

I met a few other people and just networked myself towards the end, practically talking business with the second-in-command chef about perhaps performing at the venue. I'm sure the three-hour delay was just a fluke, and this is why while I'm a tad annoyed, I'm not slamming the whole event outright. I still made some new friends, although they did walk out of the venue before the program began.

So finally, the event was done, and we had entertainment in the form of a singer from a comedy bar who tried to sing "Come On In Out Of The Rain." Now, when I hear these gay impression artists in comedy bars perform, I normally know I'm in for a treat, because they are amazing singers. Unfortunately, this one couldn't reach her notes. It actually hurt my ears, and I already listen to myself sing. It was that bad.

After some half-hearted games that nobody really wanted to get into (Tame tequila body shots, tame eating games.), they finally awarded some special awards for raffles and couples who hit it off that night, including one of the new people I made friends with that night. I headed off to go home but asked for my result sheet first, and this is where the biggest error of errors happened...

You see, I got a match with the half-Korean girl. She actually ticked "yes" on her sheet, too, when it came to me. So i did text her to say "hi".

The funny thing was, the next morning, on my way to the Disenchanted Kingdom, "she" replied.

Except it wasn't the half-Korean girl. It was one of the new friends I made that night. You know, one of those people who walked out and never even took part in the speed-dating event.

I was given the wrong number!

Seriously, guys, I hope that your next speed dating event is better than this. I'd hate to think that the derogatory reputation speed dating has, that it's a haven only for desperate people, isn't as true as some of the naysayers say. I had a lot of fun at the event last Thursday, but this was in spite of the event, and not because of it.