.:Still In A State Of Shock Here In The Fort:.
With my officemate,
Judd,
being interviewed by ANC, details are still sketchy as to what really happened in the Serendra parking lot just a few minutes ago.
Here are the things we're sure of: a car exploded as it was about to enter the parking lot, and the driver apparently perished in the explosion. We don't know if it was a freak accident or a bomb, and we don't know what's going on in the general area right now. We're a bit too scared to find out at this point.
The explosion happened in front of Fully Booked, but it didn't cause any significant damage to the surrounding area. Our prayers go out to the casualty, though, whatever the cause of this unfortunate incident may be.
The following pictures were taken by Mr. Judd Sta. Maria,and can be found on
this blog post.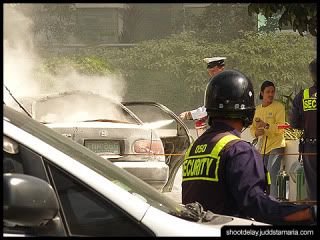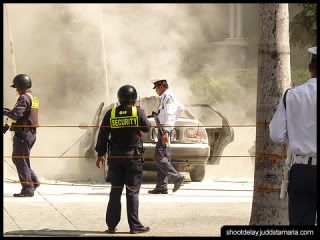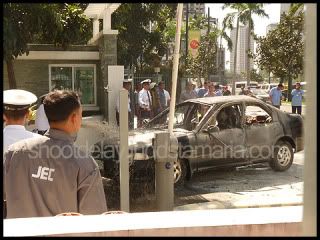 Beyond that, things are still very sketchy.

Updates: We now know that the sole casualty was one Mr. Remigio Tan, a unit owner in Serendra. It is highly speculated by investigators that this was simply a freak accident.

It's a bit scary, considering we normally walk in that general area on our way to lunch almost everyday, but ultimately, whatever happened, it was still tragic that this occurred.