.:The Top 10 People I'm Most Grateful To In 2009, Part 7 Of 10:.4. My Nuffnang Family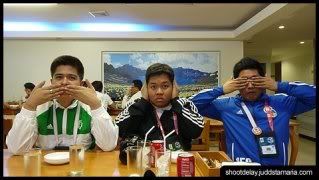 Not in picture: Anne and Patty.
This year marked a huge change for me, career-wise. While yes, I'm still trying to finish my masters, I have to say that joining the Nuffnang team ha sbeen one of the most life-altering moves I've made this year, and perhaps for my entire life. Working with excellent co-Nuffies like
Judd,
Patty,
Carlos,
and Anne has been nothing but an eye-opener for me in an industry that still has so much room to grow and become bigger than any of us could have ever dreamed. The fact that I can absolutely hang out with my co-Nuffies is indeed a huge plus, since it's really difficult to have rapport with co-workers on such a level at times for me.
The fact that we burst into random SPIT improve games while in the office only goes to show how on the same page we all are. We want to work together because we genuinely like each other, and it shows with how we establish our rapport.
I can't thank enough other employees with Nuffnang's affiliates, such as Mikey and
Danes,
for all the intelligent and interesting conversations all the same. I have nothing but amazing love and respect for my bosses, sir Eric and sir Jay, who supported me not only as their employee, but even in my other endeavours, having sponsored a significant chunk of "Bound And Gagged" last October. Of course, other former co-workers like Jing, Roanna, and Charles are just as awesome people, and soon-to-be-officemates like
Maki
and
Hannah
are notable personalities to watch out for.
Nuffnang has so much going for it, and things can only get better in 2010. I can feel it in my bones.
The other posts in this 10-part series:
Part 1: The Itchyworms.
Part 2: The magic community.
Part 3: The blogosphere.
Part 4: My Plurk friends.
Part 5: Koji Morales.
Part 6: People who are practically my best friends.
Part 8: The Disenchanted Kingdom!
Part 9: My Beloved.
Part 10: The comedians.