.:The Top Ten People I'm Most Grateful For In 2010, Part 8 Of 10:.3. The Disenchanted Kingdom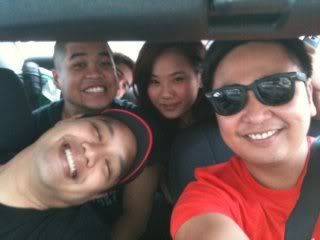 The Disenchanted Kingdom: Mondays to Fridays, 6-9AM, only on 99.5RT!


In 2008, I was with Campus 99.5 in the hopes of becoming a DJ once again, and to an extent, I did get that wish, albeit I was never on the payroll.

In 2009, I spent the last quarter of the year with the Disenchanted Kindom with no hopes whatsoever of getting hired by the station. There's something to be said there about being willing to make this kind of effort solely because I want to.

The show's hosts, Marf, Cleo Caliente, and King DJ Logan, have all been welcoming of me on their show since the first time I guested on October 23 this year. Since then, I've been a regular fixture in the show as a sorta regular guest known as the "Magic Plant", for better or for worse. And I've been having the time of my life ever since. Let's not forget to mention Pom, who is, like myself, also a regular fixture on the show from time to time.

Marf is an excellent guy and even helped me out when I was planning a bit of a surprise for a friend's birthday. He's good-natured, a great sport, and extremely funny, even if most of the time, that was never his intention.

King DJ Logan needs no introduction, really. His reputation on radio is stuff of legend, but behind the outspoken and abrasive personality you meet on air is a person who has a heart of gold and believes in doing whatever he can to make this world a better place in his own inimitable way.

Cleo Caliente is, needless to say, the most significant person whom I got to know this yeart. No, it wasn't Dancing Queen or even Lovey-Dovey. Cleo's unique personality has amused, perplexed, frustrated, endeared, and won me over entirely in one fell swoop. The girl takes you on an emotional roller-coaster like no other, and you come out all the better because of it. It's easy to see how much of an impact she's made on my life in so short a time, and I can't thank her enough for being one of my best friends, albeit being her "gay best friend only straight" does consternate me a bit from time to time.

The Disenchanted Kingdom has only been what, three months old? Already, it's a force to be reckoned with on morning radio, and things can only get better as developments happen, controversial run-ins with EDSA Shang be damned.
The other posts in this 10-part series:
Part 1: The Itchyworms.
Part 2: The magic community.
Part 3: The blogosphere.
Part 4: My Plurk friends.
Part 5: Koji Morales.
Part 6: People who are practically my best friends.
Part 7: My Nuffnang family!
Part 9: My Beloved.
Part 10: The comedians.